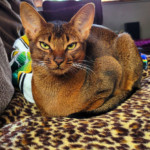 Being a long-time owner of several Siamese cats over the years, we regularly saw pictures of an adorable and spunky Aby on Instagram named Tophey.  We followed his antics every day and were convinced after doing some research that an Abyssinian would fit in perfectly in our home with our 4 Siamese cats.
After doing some more research I discovered Janet's website PureAbby and it's all history from there. I put myself on the waiting list for a kitten and in May 2021 we brought our beautiful Amhari into our busy home.  It's been a love affair ever since. Having read that they are busy and active inquisitive kitties, we still didn't quite realize how "involved" they love to be with your daily activities.
Amhari helps me do the laundry, make dinner, work on the computer, sweep the floor and clean the fridge.  She has made all the cats in the house her minions and now they do whatever she wants, which is good because being older cats, they had no choice but to play with her and they're all losing weight.
She is very smart and learned her name almost immediately.  She is also very much my cat. She tolerates my husband but has made it known that she's my baby and rewards me by cuddling in bed with me and waking me up by rubbing her face against me, purring and trilling. If I lie in bed too long, she will stand firmly on my chest and meow loudly. How's that for an alarm clock?
We love her so much and now have hours of video watching her play in the Catio, massacre her toys, and ambush the other cats from her tunnel. Never a dull moment, she greets me as soon as I walk in the door. She is my buddy. Have I mentioned that she's a supreme bug catcher as well?
The only regret I have is not getting two.
Thanks, Janet, for raising such beautiful and healthy social cats.  I can't recommend Janet enough for her attention to the breed and for giving us updates and information throughout the whole process all the while staying professional and friendly.
Valerie