Our Abyssinian Cats Happy Forever Homes!
At PureAbby, we make it a point to keep in touch with our customers who have adopted one or even two of our Abyssinian cats. We want to ensure that the cats are happy and their adoptive family is happy! During my time breeding Abyssinian Cats, many adoptive families have become friends, and we keep in touch on a fairly regular basis. I love to hear how their Aby's are doing…what mischief they have gotten into, their latest antics. With Aby's, there are always, always stories! I appreciate all the feedback that has been provided for this testimonial page. Thank you!
Leo and Oscar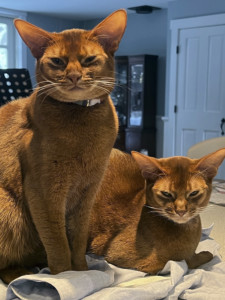 Twenty-five years ago, I stumbled upon Abyssinians at a cat show on Cape Cod and fell in love with their beauty, alert responsiveness, and their grace. I've owned Abys ever since and always in pairs to afford them interesting feline company. Leo and Oscar, our new Abby brothers from PureAbby Cattery, are the kings and the jesters of our household. I spent time researching breeders and Janet, hands-down, was the right choice. She told us that she had these two siblings, inseparable from birth, who'd stolen her heart. She was understandably eager for them to stay together. My son and I drove 16 hours round trip from Vermont to bring them home —and together they are. Leo and Oscar are the completion of each other and of our family. Oscar, in particular, gets along famously with Hazel, our golden retriever; he sleeps snuggled up against her belly, toys and flirts with her to chase him, and allows Hazel to clean his darling face. Like all Abbys, Leo and Oscar have distinct personalities with many sides, all captivating: from sweet cuddliness to pure rambunctiousness, speeding around the house and up and down cat posts like happy demons. They are highly sociable, always nearby, and never hesitate to make their wishes known to be pet, fed, and occupy the center of our attention – which we happily give them. We hit the Abby jackpot with these two males. Thank you, Janet! It's been a sincere pleasure working with you from the start, and I enjoy staying in touch to update you on our beautiful Abbys.
LIsa