"Once you have an Aby, you will never want anything else!"
I have always been a huge animal lover. As a kid, we always had pets at home including dogs, cats, various types of rodents, reptiles, and horses. As an adult, I have continued with the menagerie. We have dogs, cats, horses, and chickens. My cats have always been strays or barn cats.  It was my sister who was the Abyssinian cat woman! She was constantly talking about Aby this and Aby that. Every time I saw her, she encouraged me to get an Abyssinian. She told me, "Once you have an Aby, you will never want anything else!"  Yeah, yeah I said. (Thinking this is getting annoying!)  I was quite happy with my strays thank-you very much!
Several years later, my beautiful stray cat Wally became ill with kidney disease. I nursed Wally for another two years before he finally succumbed to this disease. For the first time in a very very long time, I found myself catless.  As far as I am concerned a home is not a home unless there is a cat in it.
True to my usual pattern of acquiring cats, I started casually looking for one that I could adopt. I didn't even consider getting an Aby (much to my sister's frustration) I figured a cat or kitten would show up at some point that needed a home.  I have to admit, I was hoping sooner than later since it was very strange not to have a cat in the house.
I was visiting our local feed store to pick up some horse grain one spring morning.  Often you would see lots of cats running around the facility. On this particular day, there was this adorable wee kitten walking around on the front counter. (Obviously put there on display in the hopes that someone would fall in love and take her home.) It worked. I couldn't stand the cuteness and, after a bit of nudging by the owners, I took her home with me. She was named Lily and she is our "Purebred Caledon Barn Cat."
In the meantime, my sister was getting a replacement Abyssinian kitten from her breeder – Glendoveer Abyssinians. She decided after getting the kitten that she didn't want two cats, so she called me and offered me her new Abyssinian kitten. I have to admit that even then it took a while for me to be convinced to have a purebred cat. However, this was when the conversion to the Aby Cult started…with my beautiful Abyssinian – Smooch. He came home to me at the age of 4 months to join Lily who was at that time about 3 months old. The rest is history. Smooch changed everything for me.
"I would not be doing what I am doing now without my mentors continued wisdom, advice, and support."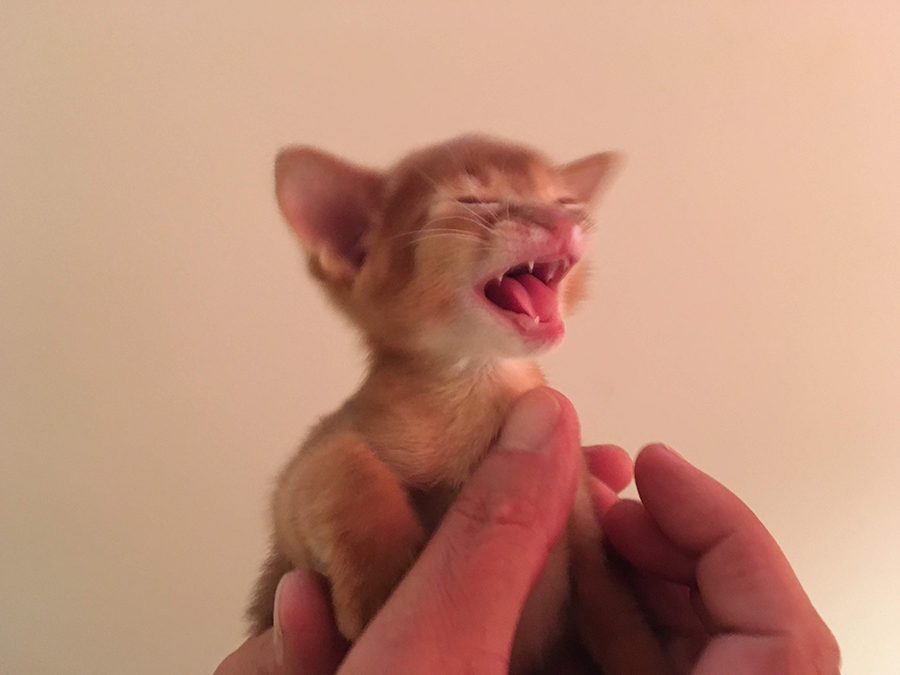 The next steps I took was to find someone who would be willing to mentor me. In the world of breeding, it is best to have a mentor or three who can guide you through the process. I contacted the CCA Abyssinian Breed Secretay Fran Merlo searching for a kitten and a mentor. She put me in touch with Meg Lambert of Anubis Abyssinians located in Attleborough MA. Meg also happens to be the CFA breed Secretary for Abyssinians in the U.S. I got my very first breeding female kitten from Meg – Memoire de Romeow – a.k.a. Zoey; who comes from a very long and successful line of Abyssinians. My initial contact with Deborah Feltham of Glendoveer Abyssinians has also resulted in Deborah providing ongoing advice in so many different areas including health, understanding pedigrees  etc. Meg, Fran and Deborah have been my amazing mentors on this journey. I would not be doing what I am doing now without their continued wisdom, advice, and support.
I wanted to have more of these amazing cats!  So, I became a breeder.
Best friends – Lily and Smooch