PureAbby is a CCA and CFA Registered Abyssinian Cat Breeder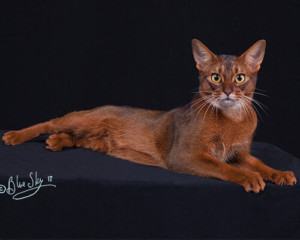 PureAbby is a current member of the CFA Abyssinian Breed Council
We are located in the Caledon Hills just north of Toronto in Ontario, Canada. We are intentionally a small Cattery which allows us to provide our cats and kittens with individualized care, love, and attention. We are not a cattery that uses cages. We focus on breeding healthy, well-adjusted, athletic Abyssinian cats with exceptional temperaments. Our Abyssinian program includes Ruddy and Cinnamon (Red) colors. We do not carry dilute in our cattery.
Our kittens have ended up in far-off places like Germany, Lithuania, China, and all over the USA and Canada. We do not ship our cats or kittens. If the kitten must fly to their destination, they must fly accompanied in the cabin.
Our cats are part of our family – and it is a rather large family! In addition to cats, we have 2 dogs, 4 horses, and lots of chickens. Our cats are born in our home and begin their socialization at an early age. A couple of cat Aunts and an Uncle have made it their business to socialize the kittens and dish out any needed discipline to the kittens as they grow up. Our kittens also meet our dogs. Naturally, they are horrified initially but soon realize that dogs can be pretty cool playmates. We keep our kittens until they are 4 months old, at which time they are ready to go to their forever homes.
Unfortunately, Abyssinians are not known for their large litters. As a result, PureAbby Cattery does have a waiting list for kittens. If you are interested in finding out more about our cats and wish to be on our waiting list, please contact us.
HOW IT ALL BEGAN…
"Once you have an Aby, you will never want anything else!" she promised.
I have always been a huge animal lover. As a kid, we always had pets at home, including dogs, cats, various types of rodents, reptiles, and horses. As an adult, I have continued with the menagerie. We have dogs, cats, horses, and chickens. In the past, my cats have almost always been strays or barn cats. It was my sister who was the Abyssinian cat woman! She was constantly talking about Aby this and Aby that. Every time I saw her, she encouraged me to get an Abyssinian. She said:  "Once you have an Aby, you will never want anything else!"  Meanwhile, I am doing the "eye roll" (Thinking this is getting annoying!) I was pretty happy with my strays thank-you very much!
I was very much in love with my beautiful stray cat, Wally. Unfortunately, he became ill with kidney disease. I nursed Wally for another two years before he finally succumbed to this awful disease. For the first time in a very, very long time, I found myself cat-less. As far as I am concerned, a home is not a home unless a cat is in it.
True to my usual pattern of acquiring cats, I started casually looking for one I could adopt. I didn't even consider getting an Aby (much to my sister's frustration). I figured a cat or kitten would show up at some point that needed a home. I have to admit, I was hoping sooner than later since it was very strange not to have a cat in the house.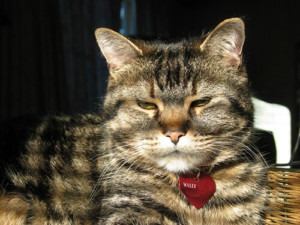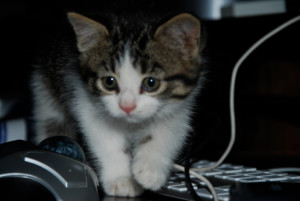 I was visiting our local feed store to pick up some horse grain one spring morning, and as usual, there were lots of cats running around the facility. On this particular day, this adorable wee kitten was walking around on the front counter. (Obviously put there on display hoping that someone would fall in love and take her home.) It worked. I couldn't stand the cuteness and, after a bit of nudging by the owners, I took her home with me. She was named Lilith (Lily), and she is our beloved "Purebred Caledon Barn Cat."
In the meantime, my sister was getting an Abyssinian kitten from her breeder – Glendoveer Abyssinians. She decided after getting the kitten that she didn't want two cats, so she called me and offered me her new kitten. I have to admit that even then, it took a while for me to be convinced to have a purebred cat. However, this was when the conversion to the Aby Cult started…with my beautiful Abyssinian – Smooch. He came to me at the age of 4 months to join Lilith, who was about 3 months old. The rest is history. Smooch changed everything for me.
To my sister…ok… I admit it; you were right. And to you Deborah Feltham of Glendoveer…Smooch is the most gorgeous cat and has a personality that is PLUS PLUS PLUS!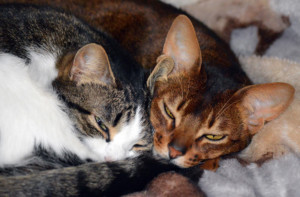 "I would not be doing what I am doing now without my mentors continued wisdom, advice, and support."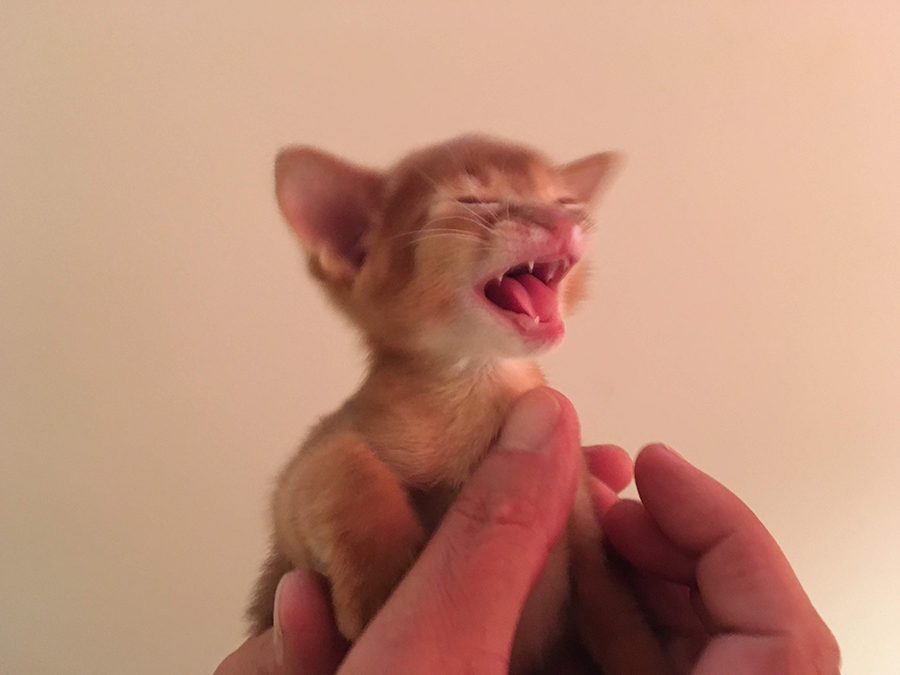 The next step I took was to find someone who would be willing to mentor me. In the world of breeding, it is best to have a mentor or three who can guide you through the process. I contacted the CCA Abyssinian Breed Secretay Fran Merlo searching for a kitten and a mentor. She put me in touch with Meg Lambert of Anubis Abyssinians located in Attleborough, MA. Meg also happens to be the CFA breed Secretary for Abyssinians in the U.S. I got my very first breeding female kitten from Meg – Memoire de Romeow – a.k.a. Zoey. She comes from a very long and successful line of Abyssinians. My initial contact with Deborah Feltham of Glendoveer Abyssinians has also resulted in Deborah providing ongoing advice in many different areas, including health, understanding pedigrees, etc. Meg, Fran, and Deborah have been my amazing mentors on this journey. I would not be doing what I am doing now without their continued wisdom, advice, and support.